---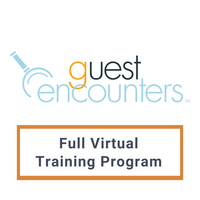 Your customer service reputation needs improvement. Your team is ready for a refresher. Chances are, there's room to improve how you interact with your customers. Guest Encounters Virtual Training offers a self-driven training solution to improve your customer service delivery based on Laurie Guest's years of experience and knowledge.
Featuring thirty exclusive lessons direct from Laurie plus interviews with experts who add context and insight for each one, this program is designed to be simple to navigate and put into practice. This easy-to-use system covers a wide variety of customer service and staff development areas, all in a format that leads to an immediate improvement in customer experience.
Topics included in this Virtual Training Program:
Customer Service
Greetings and First Impressions

Hello 101 
Authentic Connecting
Positive Positioning
Transitions That Work
Impact of Body Language

Differentiation

Noteworthy Experiences
Stop the Sorry Statements
Showtiming
Appreciation Techniques
Packaging That Gets Noticed

Communication

Taboo Words and Scripting
Reframing Issues
Energy and Engagement
Generational Issues
Personality Assessments
Staff Development
Finding and Keeping Good Staff

Hiring
Onboarding
Dealing with Change
Empowerment
Appreciation Formula for the Internal Customer

Achieving Team Buy In

Compliance & Accountability
Consistency & Productivity
Teamwork Essentials
Attitude, Initiative and Engagement
Creating Fun in the Workplace

Interactions With Guests

Dealing with Angry Guests
Over-Bearing Guests
Behaviors That Build Business
Winning Back Lost Guests
Attitude Adjustments
Please note: this is a digital delivery product. Once your purchase is complete, you will receive an email indicating that your digital purchase is ready for download (please remember to check your spam folder!). That email will contain a link to download your certificate of purchase, which includes your online access information. If you have any problems or questions, please contact us at info@laurieguest.com.