---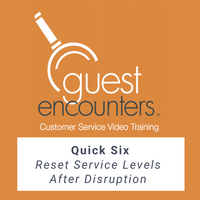 This curated selection of six quick, effective training videos includes the essentials to help reset service levels after a disruption.
Featuring a brand new introduction to the set, keynote speaker and author Laurie guest shares the tools your team needs to turn a disruption into an opportunity.
Videos in this "Quick Six" include:
Back to Basics on Customer Service

Authentic Connecting 

Showtime Mentality

E-Zone Levels

12 Steps to Dealing with the Angry Guest

Noteworthy Guest 

Experiences
Please note: this is a digital delivery product. Once your purchase is complete, you will receive an email indicating that your digital purchase is ready for download (please remember to check your spam folder!). That email will contain a link to download your certificate of purchase, which includes your online access information. If you have any problems or questions, please contact us at info@laurieguest.com.