---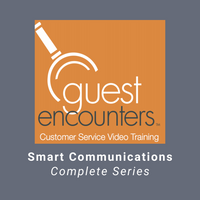 Combining all three segments of the Smart Communication Series, this suite of lessons features 18 videos perfect for resetting service levels after a disruption. Included in this expanded set are training tools that cover internal communications, scripting for success and the essentials for customer service success.
Videos in this combined Smart Communications Series include:
Resetting Service Levels After Disruption

Back to Basics on Customer Service

Authentic Connecting

Showtime Mentality

E-Zone Levels

12 Steps to Dealing with Angry Customers

Noteworthy Guest Experiences

The Right Words to Connect With Customers

Stop the Sorry Statements

Taboo Words and Phrases 

Positive Positioning

Smooth Transitions Between Steps and Stations

Reframing the Situation

Customer Appreciation

Internal Communications & Attitude Restarts

Dealing with Change

Attitude, Initiative and Engagement

Empowerment

Consistency & Productivity

Teamwork Essentials

Appreciation Formula for Managers
Interested in purchasing the Full Guest Encounters Training Program? Your purchase of this 18-video series includes a discount code to put the cost towards the full program.
Please note: this is a digital delivery product. Once your purchase is complete, you will receive an email indicating that your digital purchase is ready for download (please remember to check your spam folder!). That email will contain a link to download your certificate of purchase, which includes your online access information. If you have any problems or questions, please contact us at info@laurieguest.com.